Looking back at Hugo's Summer Schools of 2019
The Masterclasses in Suffolk and Dorset this summer had a full turn out of inspired students and many excellent painting opportunities.
Both groups of students created a great feeling of camaraderie amongst themselves which along with the delicious food, provided a thriving environment of growth and discovery.
The beautiful environs of both Berghersh Place in Suffolk and Milton Mill in Dorset were in full bloom and offered up a myriad of colours and forms, there were also excursions for 'en plein air' painting to the coast at Charmouth in Dorset and Felixstowe in Suffolk. We thought a photo essay might share the experience best;
Hugo's Summer School 'en plein air' on the Dorset coast.
One of Hugo's Summer School students, low tide.
Charmouth Beach, mid morning.
Summer school picnic lunch on the beach.
Welcome break, lunch arriving on the beach.
Hats!
Tea on the terrace in Dorset.
The gardens in Suffolk
Felixstowe Ferry 'en plein air'
Felixstowe Ferry 'en plein air'
In the gardens at Berghersh Place
The studio at Berghersh Place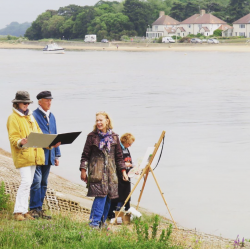 Hugo overseeing painting at Felixstowe Ferry
Hugo pondering the student's painting of the morning.
Hugo with fellow painters looking at the Sea.
Enjoying painting at Milton Mill.
Hugo after a day of painting in the gardens.
Category: News
17.07.2019
< Back to blog