Masterclasses with Hugo in 2020, booking now open!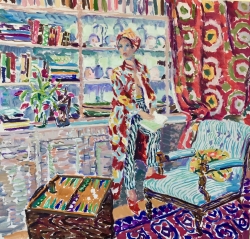 For those of you wishing to join Hugo on one of his Masterclasses, the first Masterclass of 2020 will be a life painting Masterclass entitled The Figure in an Interior; composing and painting a subject with a figure in the context of an interior which will be held at the Chapel in the Garden in Bridport, from February 17th to February 21st 2020.
We will be working with life models, both clothed and nude, and students will be able to paint both directly in front of the subject, and from their own drawings. This course will be held in the high ceilinged, light filled theatre room that was the assembly hall for the old Bridport grammar school, and is now part of the Chapel in the Garden. Hugo's studio is located on the floor above, and there is plenty of space for both working and relaxing. The town itself is a charming 18thcentury market town, and the sea is just a mile away. For more details and to pay a deposit to book your place go here.
And our summer Masterclasses will be at the beautiful Milton Mill in West Milton, Dorset,  a delightful country house with beautiful gardens, a river and pond, and views of the hilly countryside., this year they will take place 22nd June – 26th June 2020, and 30th June- 4th July 2020.
June 22nd – June 26th 2020
In this first week we return to some of the key elements in picture making, including the vital issues of color mixing and tonal values, and the best ways to approach the crucial matter of how to design a strong composition.
June 30th – July 4th 2020
In this second week we will consider the very different ways in which a subject can be treated, and how to express varied mood and feeling through the medium of paint. We will discuss the role of colour in communicating these themes, and the importance of subject selection and simplification in endeavouring to achieve an overall sense of unity and design. Students will be encouraged to develop a personal response to the landscape, and to find their own voice in expressing their ideas.
We will be focusing on painting out of doors in the Dorset landscape, both by the sea on the Jurassic coast, and in and around the gardens at Milton Mill. The course is non-residential, but will include lunch and refreshments every day. The house belongs to Hugo's stepmother, and both the gardens and surrounding countryside have often been the subject of Hugo's painting. For more details about each course and to book online, please go here.
Category: News
29.09.2019
< Back to blog